To begin with, Bigil, for the most part, worked for me. It has like everything you ask in a commercial movie -action, romance, some terrific numbers and comedy etc. And as every Atlee movie goes, this movie too has emotional beats, character deaths and close-up reaction shots. You
can even predict the screenplay but that isn't the matter , here you have to keep your audience hooked up for 178 minutes(pretty long) and reinvent ways of storytelling.
    The story doesn't pick up for atmost 30 to 40 mins. And this is where all those things which is expected of commercial cinema gets lined up – a hero introduction scene, a mass number , some
romance (hard to get past on) and action. These scenes repeat the same line "THIS IS FOR THE
FANS!" . But everything gets over and the story do picks up. That's where I pinned some hopes on. This year, commercial movies with big stars had some prominent roles for its women and the makers had really cared about to write a "heroine" character who would be present through the proceedings and do something effective in the film. Here in Bigil too, the makers have really cared to do something about Nayanthara's character and she even gets to sing some lines of anthem-like Singappenney (which only heroes have been doing this mostly) and says some couple of dialogues where she rebukes the dominating husband in the second half which the hero could have done with
some action. And coming to the women players , Varsha Bollamma as the oppressed housewife ,
Reba Monica John as the acid attack victim, Amritha Iyer are in fine form and emote well. I didn't buy Pandiyamma's character entirely (some weak and lazy writing). Again these team members have some brief roles but that's not I'm complaining, here they are allowed to perform beside the hero which we don't see much in commercial masala movies which got released not years ago, but even in recent times.
    Now coming to Vijay. This film is a leap (not a big one enough) compared to his previous collaborations with Atlee and there are some really good scenes fleshed out between both the characters-Rayappan (some solid acting as a gangster , though stammer doesn't add much) and son Bigil (a football player).
"The core is simple – the son wants to achieve what his father wished for", I repeat it.
This is the core plot of the film. Now it becomes a common goal for him as well as the women team (who have been assisted by Bigil without their knowledge) to win the cup. As the coach (his friend asks him to step up as coach) in second half, Vijay is in full form (Watch out for the police station scene). Yes he do become a savior and give motivational speeches because he needs these players to march towards victory and make sure nothing hampers the victory. And after a fiery speech in final match he almost takes a backseat in all the places and caters to the story. The girls do the fighting for victory. This is something like a baby step in commercial cinema where you let others perform while taking a backseat. (Vijay Devarakonda did that beautifully in Dear Comrade where Rashmika was amazing in the climax).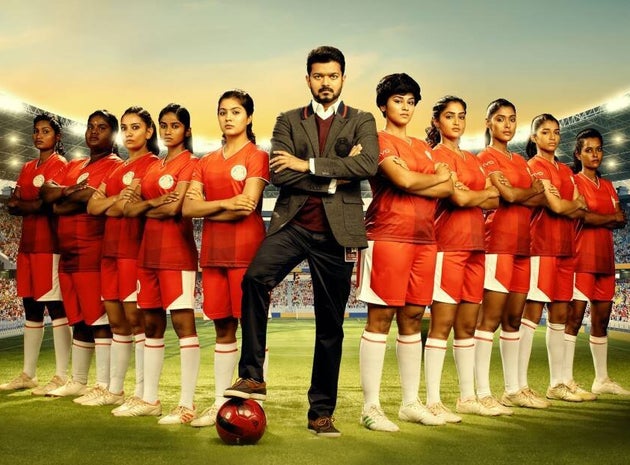 And the problem arises. When we are fed with the fact this is a women empowerment film and it is dedicated to women. The themes are dabbled here and what we get is a mixed bag. Solid actors like Kathir, Jackie Shroff, Daniel Balaji and Indhuja are offered very little. The comedy and romance are worn-out as a result of lazy writing. The football match scenes seem to be poorly executed despite rich production values and stunning work by DOP and art director. The placing of songs is good – just right there to evoke emotions. This is clearly an entertainer where the themes could have been worked better but I had a good time watching it and it doesn't preach much – thankfully that aspect left me much relieved.
Written by : Nanda Gohul, 3 rd Year , Automobile Engineering.