Gowri's take:
It would be unfair to deny that I haven't been a victim of Mani Ratnam's portrayal of love. Moments from all films, starting from Mouna Raagam, Alaipaayuthey, leading to OK Kanmani  have created, basically a brand, almost an aspiration with what everyone expects their love lives to be on par with. 
Personally, I have been waiting for the release of Kaatru veliyidai ever since the first look was revealed. Every single song, every single review and every other interview would be read immediately and an intense discussion would follow with people who are equally fanatic as I am. We are believers of the religion in which Mani Ratnam is the main deity and AR Rahman is the prophet, and how people cannot be sucked into this divinity, will always remain a puzzle to me.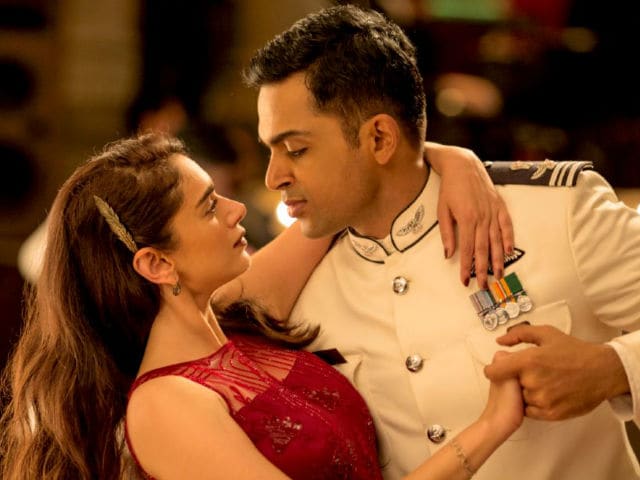 'Kaatru veliyidai kannamma, nindhan kaadhalai enni kalikkindren' translates to 'Amidst the expanse of this breeze, my darling, your love makes me happy'. These lines of Bharathi are as poetic as life can be, as poetic as the movie is. 
The plot is simple and straight forward. Dr. Leela Abraham falls in love with IAF squadron officer Varun Chakra, and they happen to be extreme opposites in personality. The film is set during the Kargil war, 1999 and the effect of the circumstances on their relationship is dealt with. Officer VC has issues with anger management and whether love makes him reform and choose reason over impulse forms the rest of the story. The film has hints of OK kanmani, in the initial parts and the latter part where it's about how the memory of your beloved gives you strength to survive in captivity reminds the audience of Roja.
Karthi simmers on and off in his portrayal of a schizophrenic, abusive partner but Aditi is absolutely stunning as an equanimous, assertive woman, hopelessly in love with a guy as unpredictable as VC.  However RJ Balaji looks completely out of place as Doctor Elias Hussain.  Mani Ratnam's strength lays in the detailing, the way he adds dimensions to even the smallest of characters. Two line descriptions of Leela's grandfather and VC's father leave a lasting impression. Also, expressions of turmoil and confusions are handled with subtility.

It would be an understatement to claim that the cinematography is breathtaking. Shots of the Himalayas, high above the clouds, literally, are a revelation. This movie is probably the director's interpretation of the saying 'All is fair in love and war' and his way of saying, 'After all, it is but the flaws that makes one perfect'. Despite the flaws and imperfections  I left the theatre moved and overwhelmed, and that's exactly why Mani Ratnam is worth rooting for.

Tirumala's take: 
Guy meets Girl and falls insanely in love with her. He somehow makes her fall for him too. Then something really bad happens. Do they get past it together? Does Love conquer all?
It is always the same story.
And it will always be the same story .
The Guy of this movie,Varun Chakrapani a.k.a. V.C., races along the hilly roads of Srinagar with his girlfriend when he meets with an accident. He is rushed to the hospital and this is where The Girl, Dr.Leela Abraham, enters his life. Our dear Romeo dumps Rosaline (that poor girl!) and runs after Juliet. He even starts reciting poetry!
She admires him for he is The fearless Officer V.C. Who wouldn't like a cool, confident, good looking guy who drives a plane?
Then, tragedy strikes. He goes off to war and gets imprisoned and this is where our Hero narrates his story.
All of this sounds too familiar doesn't it?
But V.C. isn't just like any other Guy. He is self-centered. He is loud. He is rude. He enjoys showing his girl off like a trophy. He doesn't let her speak her mind. He makes a series of insensitive comments without considering Leela's feelings.
In Mani Ratnam's, Kaatru veliyidai, we do get to witness these extremely real characters.
We feel for her. We want her to have something better. We empathize with her. But she doesn't do anything about it. They figh , but she always gives in.
If she had gone on to take control of her life then Kaatru veliyidai could have been much more than what it ended up being.
What was supposed to be his story ends up beings her's and I feel this was what ruined the movie.
Too much time and energy was spent on showing us what an obnoxious big-head V.C. was.
Aditi Rao Hydari was quite good and believable as the chirpy Leela. Karthi on the other hand was a miscast. I guess he must have decided that the best way to play V.C. was to stare hard at people. And so he stared hard at people… R.J. Balaji, who was surprisingly made to play the role of a silent and somber doctor, didn't have much to do.
The movie was visually stunning. No surprises there for all Mani Ratnam movies look beautiful. But at some point I felt that the movie could have been more real and less grand. The slow pace doesn't help.
Watch it only if you are a die hard Mani Ratnam fan or you might find youself taking far too many loo breaks than needed.
Written by Gowri Ramshankar of first year, Electronics and Instrumentation Engineering and Tirumalsri Vedam of first year, Electronics and Communications Engineering